Story Time with Jenny Baertsch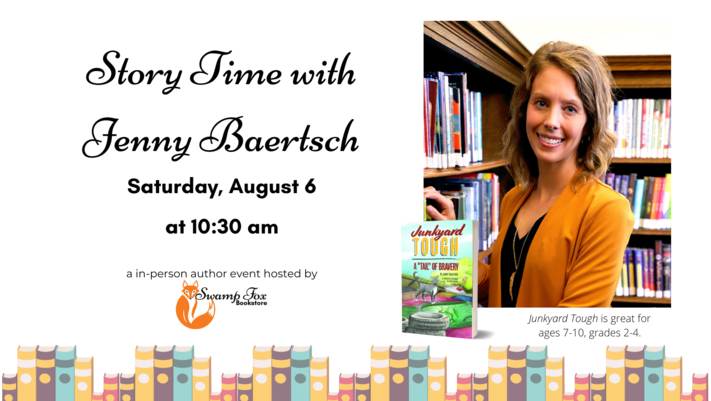 2022-06-18 23:30:00 -0500
Details

8/06/22
10:30 a.m. to 11:30 p.m. -
Free
All Ages
Categories

Family Friendly
Event Description
Join us for story time at Swamp Fox Bookstore and Swamp Fox Kids with children's author, Jenny Baertsch.

Jenny will be reading from her book and selling copies of it at Swamp Fox Bookstore & Swamp Fox Kids. Anyone who purchases a copy of Junkyard Tough on August 6 will receive a free magnetic bookmark inspired by the main character in the story!

About Junkyard Tough
Junkyards are NOT for scaredy-cats! That's where Boots lives with Mama Cat, who teaches him to be tough with the gigantic birds, hungry raccoons, and loud trucks around them. Cat curiosity leads Boots to a new home with the Meowington family, where he feels scared of the people, strange noises, and an escape from the house that doesn't go as planned! Should he run from his fears and hide? In the end, it's what Mama Cat taught Boots about being junkyard tough that helps him understand what it means to be brave.

About Jenny Baertsch
Author Jenny Baertsch and her family live in Winona, Minnesota, with a cat named Boots. She always wanted to write a children's book and was inspired when Boots joined the family, from a junkyard! Her cat's real-life adventures are woven into the fictional story, leaving readers with an unforgettable lesson of bravery. Junkyard Tough: A "Tail" of Bravery was created and produced entirely in Winona. From writing to illustrating to printing, it was very important to Jenny to keep the process entirely in her community. Now she's enjoying visiting as many classrooms, libraries, and bookstores as possible, sharing her story and connecting with young minds to spread this very important message: ANYTHING is possible with hard work and bravery!