Comedy LEAVING IOWA by Spike Manton & Tim Clue at Amana Performing Arts Center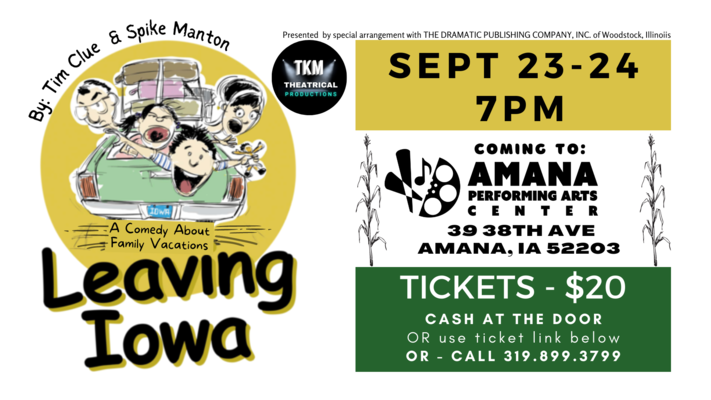 2022-09-05 21:00:00 -0500
Details

9/23/22
7 p.m. to 9p.m. -
Free
All Ages
Categories

Business/Networking
Event Description
TKM Theatrical Productions proudly presents LEAVING IOWA, September 23-34th at 7:00 pm at the newly renovated Amana Performing Arts Center, 38 38th Ave, Amana, IA.
The critically-acclaimed play, "Leaving Iowa," by Tim Clue and Spike Manton is a hilarious, family-friendly comedy that is a toast to the idealism and character of parents from the "greatest generation," and a little roast of their dedication to the family road trip. It was nominated Best New Play in the Country by the Detroit Free Press and one of SoCal Theater's 10 Most Memorable Moments of the year after its run at the Laguna Playhouse, stating the play included "the most frighteningly realistic depiction of a family summer road trip" the reviewer had ever seen. A show suitable for ages 10 to 110, "Leaving Iowa" is a postcard to anyone who has ever found themselves driving alone on a road revisiting fond memories of their youth. "Leaving Iowa" has played to packed audiences and received great reviews in hundreds of theaters across the US. It's guaranteed to have you laughing and remembering the childhood vacations you tried to forget.
"You don't have to be the child of a small-town Iowa couple living in the midst of hog farms and corn fields to identify with everything about the SIMULTANEOUSLY HILARIOUS AND TOUCHING 'LEAVING IOWA." ~ Chicago Sun Times
"Adventures in Iowa are like steep hills – pretty hard to come by" Also, hard to come by are humorous plays about the Midwest that don't reduce Midwesterners to chirpy, folksy caricatures. Leaving Iowa achieves just this with its smart, funny and at time's poignant look at what it meant to grow up in, and ultimately leave, small-town Iowa." ~ -MADISON ISTHMUS
TKM Theatrical Productions, a professional theatrical production company, is beginning its 10th season serving Eastern Iowa communities. Co-founders Tom Milligan and Deb Kennedy, combine their extensive theater background in creating affordable entertainment with mainstage productions, theater for young audiences, summer youth theater camps, and various life enrichment projects to numerous rural Iowa communities.
Tom Milligan of TKM Theatrical Productions states, "Deb and I chose this play because it's a great story with a lot of heart, that also has moments that are side-splitting funny! We are very excited to be able to work with the wonderful cast of actors, and to be able to bring this very relatable story to Amana."
Tickets $20. Available at the door, OR call 319-899-3799 for reservations.
LEAVING IOWA is produced by special arrangement with THE DRAMATIC PUBLISHING COMPANY, INC. of Woodstock, Illinois.