Fair Trade Rug Event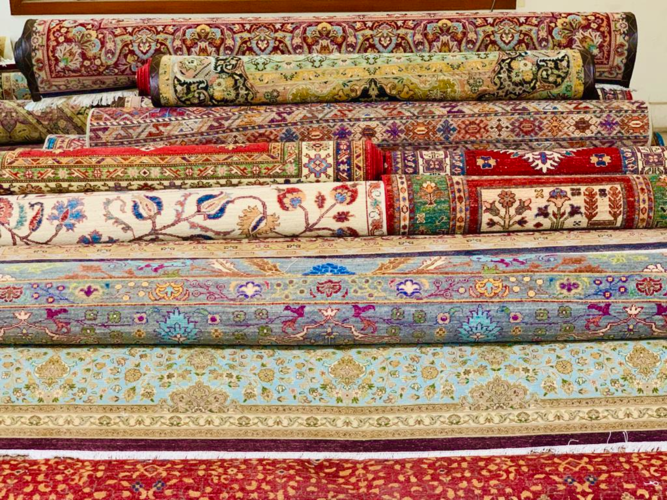 Event Description
The Fair Trade Rug Event is a partnership between Ten Thousand Villages and Bunyaad, a fair trade, Pakistani job creation program that gives both men and women equal access to a fair living wage.
Approximately 300 hand knotted, heirloom quality rugs will be available to see and purchase in a variety of unique designs and sizes ranging from 2' x 3' to 10' x 14' rugs as well as runners and Kilim pillows.
This year's Rug Event is particularly important to Pakistani artisans. Pakistan is currently inundated with flooding covering a third of the country. Communication is disrupted and U.S. partners are trying to get pertinent information on the well-being of more than 850 families in over 100 villages who make the hand-knotted rugs available at the Rug Event.
"When you purchase a rug through Ten Thousand Villages, you not only invest in a beautiful piece of functional art, but you are also supporting lives, culture, and education in Pakistan. This year's rug sales provides Pakistani artisans much needed economic stability and income to rebuild homes and villages devastated by flooding," says Liz Preciado Genell, Executive Director of Ten Thousand Villages Iowa City.
An Introduction video to Bunyaad Rugs on their website explains how these rugs are made and what makes a quality oriental rug. It explains how knotting rugs is changing the lives of women and their families in Pakistan.
Bunyaad provides a foundation for women by paying them a living wage to knot heirloom quality rugs on looms set in their homes. Women can work on the looms around their other household chores, like caring for children, preparing meals, and tending their home. Work on the looms gives women year-round stable employment that they have control over. With this income, women have found increased financial independence and can financially contribute to the success of their family. They are able to send their children to school and plan for the future. Having a wage-earning skill gives Pakistani women a sense of pride as well as an avenue to true social change for themselves and their family.
Rugs will be displayed at the Hyatt Regency Hotel in Iowa River Landing, 300 E. 9th St, Coralville. See the rich colors, unique designs, and learn more about the rugs from Yousaf Chaman, director of Bunyaad.
Safety measures will be in place and visitors are asked to wear a mask and social distance. Interviews can be scheduled with Yousaf and photos of the rugs can be viewed in advance at the Bunyaad Rug website.