Digital Marketing Seminar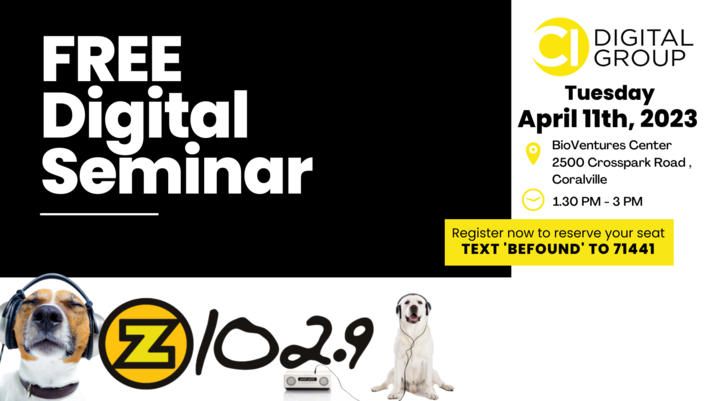 2023-03-10 15:00:00 -0600
Details

4/11/23
1:30 p.m. to 3p.m. -
Free
All Ages
Categories

Business/Networking
Event Description
Z102.9 and CI Digital Group
INVITE YOU to a
FREE SEMINAR
in DIGITAL MARKETING
TUESDAY, APRIL 11
This Digital Marketing Seminar is for you if you've ever wondered…
"With digital advertising, where should I start?"
"How do I drive more traffic to my website? Increase my ranking on Google?"
Presenting digital expert:
Jim Lather: President and founder, digital marketing agency 44i
Jim has more than 20 years of experience in both traditional and digital marketing. He is well versed in business strategy, web design and development, video production, branding and graphic design, and traditional advertising.
BONUS: Complimentary digital audit of their business for everyone who attends!