ABC's of Jones County book signings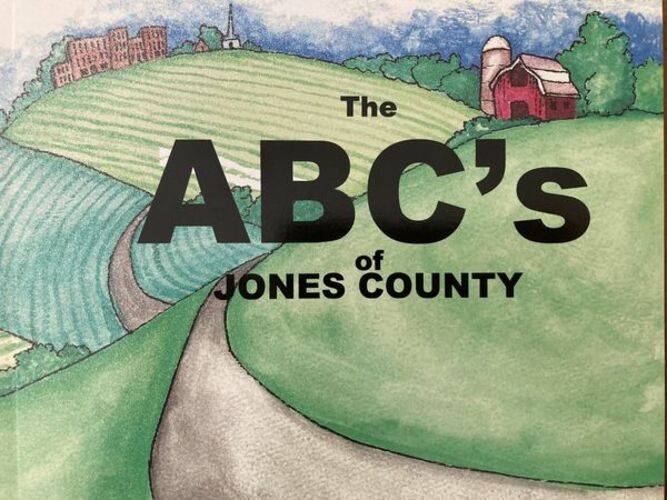 Event Description
Beginning this month, Jones County children will have a chance to read about their community and learn their ABC's with the same book. That's because Every Child Reads, an initiative of the Jones County Community Foundation, is releasing a new children's book, The ABC's of Jones County. The book walks children through the alphabet using familiar places and activities in Jones County.
Families can also purchase books or get their books signed by the authors at:
Thou Art in Anamosa, Friday, June 2, 5 to 7 p.m.
Whiffle Tree in Monticello, Saturday, June 3, 1 to 3 p.m.
Savor the Barn in Monticello, Saturday, June 17, 10 a.m. to noon
"This was a fun way to look at Jones County through the eyes of a child and discover fun places to visit or activities to do throughout the year. We hope it sparks the interest of children and adults alike, because Jones County is a great place to live and play," says Heather Weers, coordinator for Every Child Reads Jones County and co-author of the book. She asks families to post photos of themselves with the book throughout the county to the Every Child Reads Jones County Facebook group at facebook.com/groups/jonesecr.
Support and funding for the new publication comes from the Anamosa City Council and the Jones County Community Foundation. The book was illustrated by KC Kiner Wortman. In addition to Weers, the authors are Rosalie Ahrendsen, Kim Brooks, Paula Buck, Sherri Hunt, Amy Keltner and Sherri Neofotist.
"We created this book to get kids and families excited reading and also about exploring Jones County and everything it has to offer," say the authors. "The book is dedicated to Jones County kids and their families."
"I think this book is a wonderful representation of all that Jones County has to offer," says co-author Hunt. "Even as a longtime resident of Jones County, I learned a lot. We don't live in the middle of nowhere — we live in the middle of everywhere."
Every Child Reads – Jones County takes a holistic approach to children's well-being with a keen focus on a key predictor of school success: Reading proficiency by the end of third grade. By focusing on projects like this one, which gets books into the hands and homes of young children, Every Child Reads provides an opportunity for the community to come together to ensure that every child is successful in school and in life. "When we started this project, we wanted to encourage kids and their families to read together, but we also wanted to encourage them to explore Jones County and maybe get to know some places that were new to them," says co-author Buck. "As someone who didn't grow up in this area, I learned about so many places I didn't know were here. We hope that this book does that for families in Jones County as well."