Textile Art Exhibit and Artist Talk by Don Dixson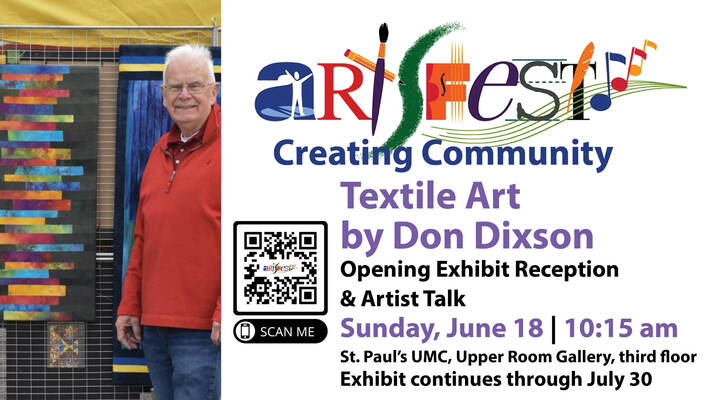 Event Description
Beginning Sunday, June 18, Upper Room Gallery at St. Paul's United Methodist Church, 1340 3rd Ave. SE, will exhibit the textile art of local artist Don Dixson. That morning a reception and artist talk will be held at 10:15 AM in the gallery. The art will be on display through July 30. Gallery patrons should park in the church's 2nd Ave. parking lot and enter the church building by the left-hand door under the portico. An elevator will ascend directly into the 3rd floor gallery, which is handicap accessible and is open to the public 8 AM-5 PM, Monday through Thursday; 8 AM-Noon, Friday; and 9 AM-Noon, Sunday.
In 2007, Dixson's long forgotten childhood interest in art was rekindled when he started making quilts for his expanding family of grandchildren, family members and Quilts of Valor. Using hand-dyed fabric and an improvisational piecing technique, he soon assembled his first piece of textile art. He developed a technique of ripping strips of fabrics and assembling them into amazing pieces of unique textile art. Dixson's fabric selections have expanded to include printed fabrics along with hand-dyed fabrics. He hopes that his art works evoke the warmth and comfort of colorful quilts and that as people bring them into their homes and businesses, that they too will experience that warmth and comfort.
All are welcome to the artist talk and exhibit.