Coe College Marquis Series: Reginald Dwayne Betts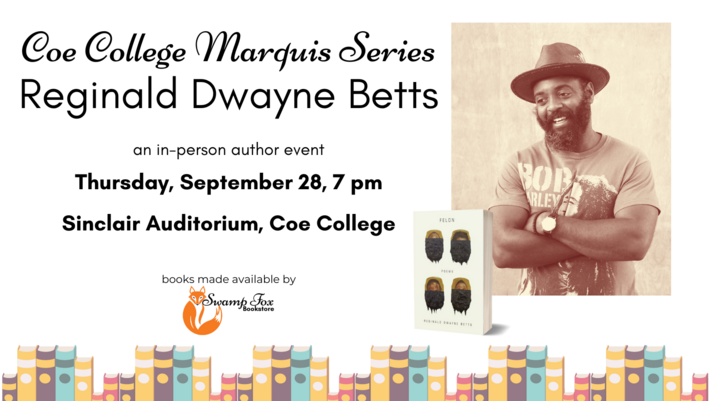 Event Description
Join us for an inspiring evening at the Coe College Marquis Series event!
For decades, the Marquis Series has brought exceptional talent to Cedar Rapids. This year, Coe is thrilled to present Reginald Dwayne Betts!
Betts, a former inmate turned poet, lawyer, and activist, has an incredible story of resilience. He's even received a Macarthur Fellowship. Join us for his one-man performance, "Felon: An American Washi Tale."
Swamp Fox Bookstore will be on hand to sell Betts's books, so you can take a piece of inspiration home with you!
Co-sponsored by the Prison Learning Initiative and Coe's African American Studies program, this event promises to be a powerful exploration of transformation.
Mark your calendars and invite your friends to this inspiring evening on September 28th at 7:00 PM. Don't miss out on the chance to be moved and motivated! #CoeMarquisSeries #Inspiration #Resilience #CommunityEvent
Each Marquis Series event is held in Sinclair Auditorium on Coe's campus and there is no charge for admission for Coe students, faculty and staff. Tickets are $15 for the general public and $10 for senior citizens (55 and older) and non-Coe students (18 and under). Attendees may purchase tickets online at www.coe.edu/why-coe/events/marquis-series.