The Complete Works of Jane Austen, Abridged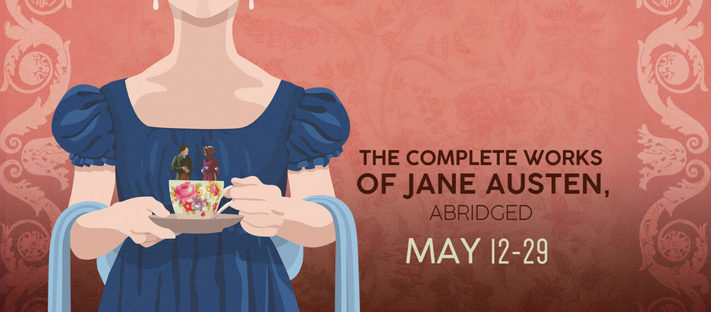 2022-05-28 20:50:00 -0500
Details

5/28/22
7:30 p.m. to 8:50p.m. -
$15 – $30
All Ages
Event Description
Three nimble actors take on all of Austen's beloved heroines, friends, and love interests—and her incisive social satire—in just 80 minutes. Emma, Elinor, Mr. Darcy, and more.
Written by Jessica Bedford, Kathryn MacMillan, Charlotte Northeast, and Meghan Winch.
Featuring Jo Jordan, Jessica Link, and Aaron Stonerook. Directed by Rachel Korach Howell. Featuring designs by Chris Rich, Karlē Meyers, and Stephen Polchert. A fast and funny literary romp for the City of Literature.
Thursday, May 12 @ 7:30pm
Saturday, May 14 @ 2:00pm
Saturday, May 14 @ 7:30pm
Sunday, May 15 @ 2:00pm
Thursday, May 19 @ 7:30pm
Saturday, May 21 @ 2:00pm
Saturday, May 21 @ 7:30pm
Sunday, May 22 @ 2:00pm
Thursday, May 26 @ 7:30pm
Saturday, May 28 @ 2:00pm
Saturday, May 28 @ 7:30pm
Sunday, May 29 @ 2:00pm