Author Talk: Megan Bannister in conversation with Katie Mills Giorgio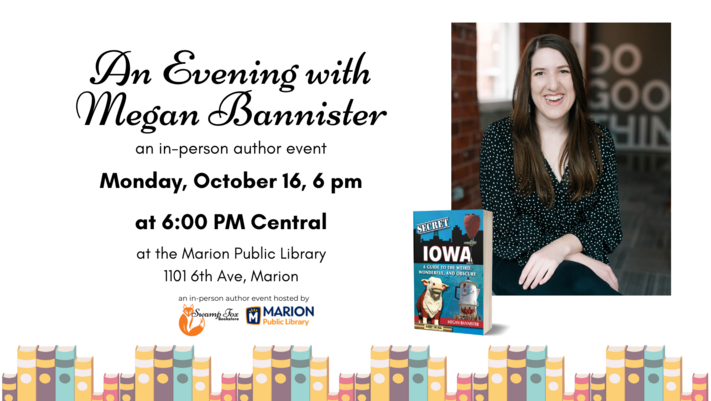 Event Description
Come learn about the weird, wonderful, and obscure things you can find all around Iowa from Des Moines-based writer, Megan Bannister.
About the book:
Some claim there's nothing to see in flyover country. But take a closer look and you'll discover that Iowa is home to more than just cornfields. In fact, across the Hawkeye State you'll encounter hidden gems and secret spots abound. For instance, do you know where you can find the only remaining Frank Lloyd Wright designed hotel in the world? What about how much the World's Largest Popcorn Ball weighs? And why did the Los Angeles Lakers pay to build a basketball court in the small town of Carroll? Dive in and discover the state's offbeat history and quirky places through Secret Iowa: A Guide to the Weird, Wonderful, and Obscure.
About the Megan:
Megan Bannister is an Iowa transplant who has called the Hawkeye State home for more than 14 years. An avid road tripper, Megan writes about offbeat destinations, roadside attractions, and "world's largest" things. She is also the author of Iowa Supper Clubs, which highlights classic restaurants both past and present across the state. Megan lives in Des Moines with her husband, cat named Poe, and approximately 52 houseplants. Follow along with her adventures on social media, or by visiting OlioInIowa.com.
About Katie:
Katie Mills Giorgio is a freelance writer, editor, and nonprofit professional living and working in her hometown of Cedar Rapids, Iowa. She's been creating content for newspapers, magazines, websites, and nonprofit organizations for more than two decades, getting her start writing concert reviews for the Cedar Rapids Gazette while still in college. She's written for a wide variety of publications, including WashingtonPost.com, BHG.com, and U.S. News & World Report. 100 Things to Do in Cedar Rapids Before You Die is her first book. Katie, an aspiring children's book author, is a member of the Society of Children's Book Writers and Illustrators. But her favorite role is mom of two teenagers. Learn more at katiemillsgiorgio.com or follow her on Instagram at @ktmgiorgio. Share you own Cedar Rapids adventures on Insta using #100ThingsCedarRapids.